Cosmetic Dentistry in Long Beach
We're in the business of smiles because we think everyone should love the way they look.
Dr. Velasquez
offers high-quality cosmetic dentistry so you feel like a million bucks every time you look in the mirror. We've seen cosmetic improvements change the way patients think about themselves and interact with others. When you like your smile, it's easier to stand tall and take on the world!
Getting Started With Cosmetic Care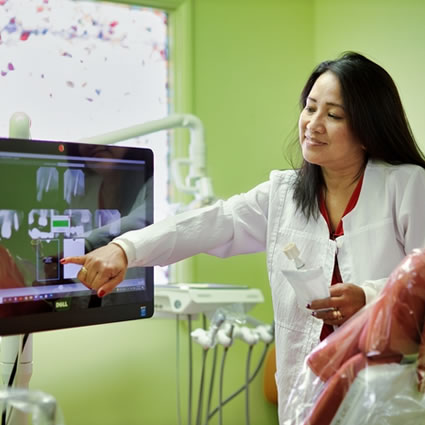 During your consultation, we'll talk about your goals and make a plan to move forward. Our treatments are completely custom to each patient. It's difficult to pinpoint a price until we can see you in person and recommend a care plan for you. We'll always be open and honest with finances up front—that's a promise.
We make your comfort a top priority. If necessary, your treatment will include a local anesthetic so that you won't feel anything during your visit.
Custom Silver and White Fillings
We offer both amalgam (silver) and composite (white) fillings. Amalgam fillings have a longer life. However, they are less attractive and tend to expand with age, causing the tooth to weaken and often crack. When cost is a concern, silver fillings are generally less expensive.
Composite fillings are more attractive, and they tend to strengthen a tooth weakened by decay. These white fillings are nearly indistinguishable from your natural tooth.
After Care for Fillings
After receiving a filling, the gum tissue and site of the anesthetic injection will likely be sore for several days. Use a warm saltwater rinse to ease discomfort. It's also common to experience increased sensitivity to cold for up to three days after the procedure. Call us if pain or sensitivity persist beyond a few days.
For amalgam fillings, do not bite hard or chew on the fillings the same day they were placed, since it takes 24 hours for amalgam to fully set. Composite fillings are already set, since they are hardened by the use of the light cure, or blue light. If you received a composite filling, feel free to chew with it that same day.
If your child has received a filling, keep a close eye on the child until the anesthetic wears off to make sure they do not chew on the tongue or the inside of the cheeks or lips while they are numb. Anesthesia applied to the upper mouth should wear off in 15-30 minutes, but it will take an hour or more for the upper mouth to wake up.
Temporary Bridges and Crowns
At your first visit for crown or bridge treatment, we'll place a temporary form on your tooth to protect it from infection. If cared for properly, these temporary crowns are durable and reliable, so you don't need to worry about it coming off.
In the rare event that something does cause the temporary form to come off, apply denture adhesive to the inside of the temporary crown and place it back on top of the tooth. Call us right away so we can schedule you for an urgent appointment.
After Care for Bridges and Crowns
After receiving your permanent treatment, you may experience sore gums and sensitivity to temperatures or pressure. Use a saltwater rinse to ease pain, and chew on the untreated side of your mouth until the following day. Avoid sticky foods, chewing gum, and ice. You may continue with your normal routine of brushing and flossing the same day of treatment.
Once your new crown or bridge is in place, your bite may be slightly different. However, it should not feel uneven. If you're not sure whether your bite feels correct, contact us so we can take a look.
Choose a Better Smile Today
We would love to help restore your teeth and equip you with newfound confidence. Contact us today to find out what we can do to improve your smile.
CONTACT US »

Cosmetic Dentistry Long Beach CA | (562) 424-9473