Dentures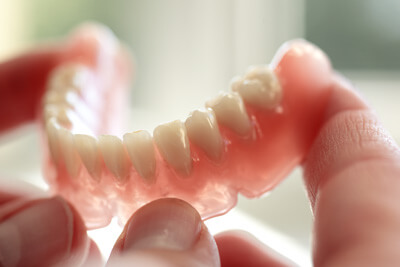 If you're reluctant to smile because of missing or older teeth, we want to help you beam confidently with dentures. At our practice, we focus on functionality, ensuring the denture stays in your mouth, that it's comfortable for you to eat and talk, and that it's aesthetically appealing. We want you to be happy with how you look and that it doesn't appear as if you're wearing dentures when you smile.
Here's a look at the types we offer:
Partial
Partial dentures are an economical and less invasive solution for people who only need to replace one or a few missing teeth. These appliances consist of a metal or resin plate with false teeth attached, which is held in place by clasps that hook onto the natural existing adjacent teeth. They support the remaining natural teeth, while restoring much of the original bite and smile.
Full
Full dentures are the traditional and most common type of dentures. A full set of upper and/or lower appliances replace all of a person's teeth in one or both jaws, building an artificial arch that fits snugly over the gums. These tooth replacements are designed to look and feel natural, restoring proper bite alignment and facial contours.
We can customize modern dentures to match a patient's natural teeth tone and shape, for a more realistic look. A secure fit is achieved through the careful use of dental adhesive or an implant-supported denture. With proper care and upkeep, full dentures can last for many years.
What Are the Benefits?
Dentures offer several benefits, including improved appearance, enhanced chewing ability, and clearer speech. While these appliances rest on your gums, we also offer the option of adding implants for added stability. Implants provide a secure foundation for your removable dental appliance, minimizing the risk of them moving or falling out while eating, talking, coughing, or laughing.
We offer procedures to address bone loss where patients lack sufficient bone structure, allowing us to create a snug fit for your appliance.
Evaluation & Treatment Plan
When you visit our practice, our experienced team will assess the health of your mouth, including the condition of your gums and bone structure. This evaluation is crucial for ensuring proper fitting dentures. We will take photographs and impressions of your mouth, enabling us to create a customized treatment plan tailored to your specific needs.
Please note that insurance often covers the cost of new dentures every five years, but coverage may vary. We recommend checking with your insurance provider for specific details.
Longevity and Care
Typically, dentures last around five years, but their lifespan may vary depending on individual usage and care. We recommend regular maintenance and realignment every year or every few years to ensure a proper fit as your mouth changes over time. To care for your appliance, we recommend that you:
Remove your appliance at night to give your gums time to rest.
Brush your dentures daily and also brush your gums to maintain oral hygiene.
Store your appliance in a dry container when not in use.
Schedule an annual checkup and professional cleaning to keep your gums healthy.
Crafting Natural-looking Smiles
We understand the importance of a natural-looking smile, and our team works closely with patients to achieve the desired results. Through a series of visits (approximately four), we ensure the proper fit and appearance of your dentures. Before finalizing the restoration, we seek your input to ensure your satisfaction with the way your dentures look and feel when you talk and smile.
Book an Appointment
Wondering if dentures are right for you? We invite you to schedule an examination and consultation with Dr. Velasquez today!
CONTACT US »

Dentures Long Beach CA | (562) 424-9473